The 2023 Annual Conference Recordings are now Available!
Now you can get access to all of our speaker presentations from our conference in Las Vegas. Click the button below to register and get instant access!

———————————————————————————-
This year, internationally renowned experts will present you with causation science to inform your medicolegal practice.
Join us for our optional Report Writing Workshop, taught by IAIME Fellows and Past-Presidents in a small-group format.
Certification in the AMA Guides, 5th Edition Impairment Rating is also available on Sunday for those whose jurisdictions still mandate its use. We would love for you to join us there in person.
This is the perfect chance to hone your professional skills.
Claim up to 30.5 Hours CME Credit!
WEBINAR: How to Be an Empathetic & Persuasive Medical Witness (16 Feb)
Join us for our webinar on Thursday, February 16 , 2023 with Dr Brooks and  Jack Follis,  where we will be discussing how you can become a more authentic and effective expert witness during your testimony and report reviews.  It's not just what you say but how you tell the truth that can profoundly influence the way your opinion is perceived by a judge or jury. Join us for the webinar!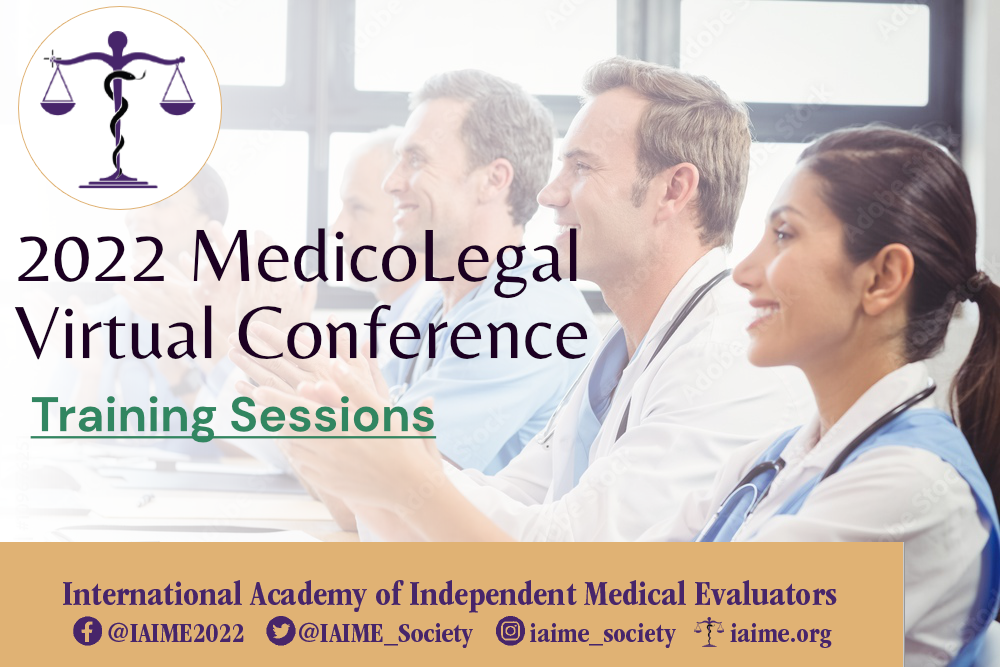 2022 IAIME Mid-Year Training Sessions Now Available for Purchase
We have just released all of the recorded training sessions online from our recent 2022 Mid-Year Conference. With over 15 hours of video training plus Q&A discussions and panels from leading experts in the industry, you'll get access to the latest strategies, tools and lessons learned to grow your IME practice. Click the link below to get all the details.
The IAIME Mission
The mission of the International Academy of Independent Medical Evaluators is to advance the science, prevention, evaluation, and management of disability.